Every Saturday evening for the past five months, Pakistanis everywhere quickly wrap up their businesses to rush home, switch off their phones and cosy-up in front of the television instead of going on about the weekend as they once usually did. Whether its Karachi or Peshawar; a retired couple in Naziabad or a rebellious teenager in DHA, come Saturday evening, everybody seems to have only one agenda on their mind: to catch the latest episode of the phenomenon that is Humsafar.
On a cursory glance, there's nothing about the drama serial or its story line that hasn't been used and abused on Pakistani television before. Love, marriage, jealousy, deception— you name it. But it's only when you carefully prod and dissect that you realize that it isn't the story of Humsafar that has the nation hooked, it's the cast.
And while both Mahira Khan and Fawad Khan have emerged as the fabled couple as Khirad and Ashar in what has become one of the most popular tragic love story of recent times, one young actress who has outdone herself in the role of Sara, the third vertex of a rivalrous love triangle, is Navin Waqar.
Here, Xpozé talk to Navin about her past; the cult hit Humsafar—her first play—has become, and her future which can only be described in one simple word: bright.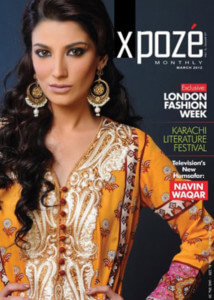 On her early years, school, traveling and family…
I was born in Karachi, but traveled a lot as a kid. We lived in Dubai for about six years, and I went to school there from first till sixth grade. I later did my graduation in Mass Communication from Indus Valley School of Art and Architecture. The part of my life where I was out of Pakistan was so small that I tend to think I've always been here. This is my home and I'm not leaving Karachi and Pakistan, ever!
We're a very small, close knit family of four—it's just me, my brother Faraz Haider, my mom and my dad, who runs his own business.
On her conservative father, his set of guidelines and convincing him to let her become an RJ…

Both my parents have been quite supportive of whatever I've wanted to do in my life, although I have to admit my father is generally a very strict and conservative man. I remember how upset he was with me when I first started my career in radio. But eventually, as time passed and he saw how good I was doing, he realized that it was OK and is now very proud of me. Of course, I had to go through the same process of trying to convince him again everything would be alright when I shifted to television, but like I said, he's OK with it now. He's actually given me a set of guidelines, and as long as I stick by them, he's OK with whatever I do, and I kind of respect that. You know, considering everything I've seen and experienced in the industry, especially being a girl… I'd want to give me guidelines too! So, it might sound intimidating, but I kind of like the fact that even at this age, both my parents are like: "You watch out girl, because we're always watching you!" It's a good feeling to know there are people around who're constantly on the lookout for you.
On the one love of her life: radio…
Radio is hands-down one of the best things I've ever experienced in my life. I absolutely love it! I started my career as an RJ in 2003, but took a short break when I joined AAG TV because it was becoming really difficult for me to start something new and juggle the two mediums. I needed a break, but naturally it didn't last long and I started doing radio again.
I'm doing a show called 'Drive On with Navin Waqar on Radio1 Fm91 these days as well. It's an Evening Drive Time show, which keeps me busy from 5-8 pm every evening Monday through Thursday. I've been with Radio1 for four and a half years now, and every one there is practically like family to me.
Apart from that, the biggest compliment you can get is that on radio, people become your fans not by looking at you but by listening to what you have to say. And that is such a rush, believe me! On TV, you get dressy; you get your hair done and put lots of make-up on to look pretty. But on radio, nobody knows what you look like; they just like you because they like what you're saying.
Radio is something that comes to me so naturally that I can do it in my sleep! The best thing about the entire experience is of course the music. I live for music!
On the music she enjoys listening to…
Look, when you're an RJ, you can't stick to one kind of music. It's a part of your job to know what kind of music is coming out all the time. And trust me when I tell you, there have been times when I've had to listen to hundreds of albums over a weekend just so I could have a new sound for my show. I have to sit there and listen to some horrible stuff that I wouldn't think about playing on my show in a million years. But then, there are also times when I discover some amazing stuff which makes my day.
Personally, I enjoy listening to everything, really! I like progressive house, I like electro music, and rock and dance music as well. I'm always open to good Indian and Pakistani stuff too. It all depends on my mood. Currently, I'm listening to the new album by James Morrison and Kimbra and a couple of other singles. In my car you'll find a strange mix: on one end there'll be a Qawwali or a ghazal; on the other end there'll be a song by someone I used to know; and in the middle there'll be a very current dance track. I think I have a very broad horizon when it comes to music.
On her fans and their live phone calls…

Thankfully, I've never had to face a lot of unpleasantness in my life. I hear about other RJs and VJs who've had weird calls from rude and offensive fans and I'm just glad it's never happened to me. My fans are all very nice to me. On the contrary, I've had tons of good moments on radio. I consider myself lucky that my fans don't get weird. Initially of course, I remember some of them would refuse to get off the phone but that's about it. They'd want to tell me their whole life story on-air, and that was sometimes a problem because we obviously have time constraints. I distinctly remember this one girl who called me up and went on and on for five minutes, and then asked me if I was going to take her call on-air. And when I told her: "Sweetie, you were already on-air," she just freaked out and hung up! That was funny. Really, it's these little things and stories that stay with you for a lifetime…
On the big move from radio to television, and making sense of the new medium…
Television is a whole different ball game! While radio is like a small family where you know everyone in the studio personally, TV is big and cold and impersonal! People look at you on TV and think you've got it easy, that it's the best job in the world. Well, it's not!
Transitioning from radio to television was really very difficult for me. I never saw myself as someone who could go in front of the camera. I was a very awkward child while growing up; I went through my phases, you know. I didn't' care about fashion, making my hair and looking pretty. I was always the silent girl with headphones in college, and I certainly didn't have many friends. But then, it never bothered me because I always had my music. I never bothered what anyone thought of me and I think it was that confidence that ultimately helped make the transition easier. And then, radio also definitely built the ground for me to stand in front of a camera and speak to the whole world so fluently. Had radio not been a part of my past then, I wouldn't have been able to perform on TV. Radio gave me the required confidence and it polished me.
On being a "clumsy oaf" and other funny stories from the sets…

Gosh, there were lots of disasters happening on the set all the time. I once almost slipped and fell on live television but thankfully nobody noticed! I'm a clumsy oaf, seriously. I'm the kind of girl who's always skidding across the room, but somehow I manage to make it all look very elegant. If only you knew the kind of stuff I do and ge t myself into… I remember once a pigeon flew right into the studio and sat somewhere on a hatch throughout the show with all of us worried that it would fly in front of the camera, or worse yet, poop on my head!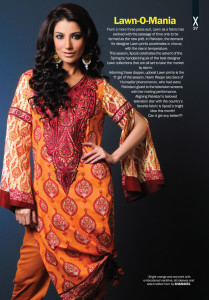 On the singer she doesn't think she is…
Well, I only used to sing in front of a few very close friends, but then somehow some people heard me sing and they assumed I have one of those nice classical voices. I'm sorry to disappoint, but no—that's not me at all! I only got into singing because my brother and I are both really into music.
I tried to learn how to play the guitar but failed miserably because apparently I'm tone deaf when it comes to playing musical instruments! I think there's a difference in being a singer and people not leaving the room when you open your mouth to sing. I'm not a singer. Sure, I may be able to carry a tune or two, but I'm definitely not a singer.
I have been signed with Fire Records for almost two and a half years though. They've been kind enough to give me the room to delay releasing an album, and I know no one else would have shown the kind of patience they've shown with me. I've already recorded ten songs on an album that my brother produced, but I just don't feel like releasing it yet because I'd much rather concentrate on acting right now.
On her other interests: painting and writing…
My parents wanted me to go to Indus Valley and study communication, which I did, but a part of me has always wanted to be a writer. It's been my dream for so long to see something I've written on screen. It would be an amazing thing to experience and I'm hoping that maybe in a year or two, I'll be able to finally do something about it.
IVS definitely helped develop my interest in writing and painting, but I don't think I'm very good at either of those things as yet. Right now I just do them because I enjoy doing them for myself. If however, I had to pick one of my interests out at the most terrible end of the day, I'd definitely pick writing. I love writing poetry and fiction. I once even wrote a play when I was in college.
You know, there's always stuff you need to get out of your system, and you can do it better if you know how to write. Of course it's nothing like "Dear diary, bla bla bla…" thankfully! What I write has got more to do with my understanding of people or my own work; I like writing about my experiences. I'm also working on a couple of scripts that I'd like to put on screen someday.
On Humsafar and the "negative lead" that that changed her life…

Humsafar happened to me exactly like everything else that's happened in my life: like an accident! Nina Kashif, the executive producer, called me up and told me she wanted to meet with me to discuss the possibility of doing a play. This was a time when I'd already left AAG and was spending a good chunk of my time thinking about what I would be doing next. I remember when she told me the cast included Mahira Khan and Fawad Khan, and I got really excited because I already knew Mahira. I knew I'd have a good time with her because we were already friends. But then Nina started taking names of the rest of the cast: Hina Bayat, Behroze Sabzwari, Atiqa Odho… and I was like: "Are you serious? You want me to be in a play with these giants?" It was unreal… but then Nina dropped the bombshell: I was being offered a negative lead. I couldn't believe they wanted me to be a villain in my first play! Anyway, she sent me the script and I read it faster than I've ever read anything in my life and it was just awesome!
On having to convince her dad, again…
Once I'd read the script, I sat down with my parents and discussed it with them. I told them that I thought it was an amazing opportunity to work with such a brilliant cast, but I wasn't really sure if my debut should be as a negative lead or a villain. My dad was totally against it. He didn't want people look at me and get pissed at me on screen, and he put up a hell of a fight. His 'No' was decisive. He was basically upset with the idea of me getting into plays. My mom, however, said that if I thought it was the best thing for me to do, then I should just go ahead with it… and so I went ahead and met Momina Duraid at Hum TV anyway.
Momina had to work on convincing me because I was scared. Everybody wants to be the nice girl on TV and they want to be taken as someone who'd be loved unanimously. But here I was, getting ready to play a character who nobody would like. I mean, just look at Sara, she's insane!
When I finally convinced my dad and agreed to do it, I thought I knew what I was getting myself into. I knew people were going to dislike Sara a lot, but boy was I in for a surprise. I'd never imagined that people were actually going to hate on her with such conviction!
On relating with her character, Sara, on more than one level…
To be honest, I related quite well with Sara. If I wasn't able to relate with her, I wouldn't have been able to play her as well as I did. If you think about it, there's always something or the other about the anti-hero that people can relate to; you know, things they do that are actually understandable. I see Sara as someone who's just so madly in love with a guy that she's lets go of her sanity. Everybody at some point in their life has been there.
I admire her confidence, but at the same time I don't concur with her mindset at all. Sara is an elitist who keeps talking about "standards" while I'm the polar opposite of that. If somebody said that to me, I'd literally slap them. I don't believe in double standards and I certainly don't think I'm better than anybody else in any way. At the same time, it's difficult for me to hate Sara. In the entire play, there's no mention of Sara's father. So to some extent, I understood where she was coming from. When I was a young girl, I hardly ever got to see my dad because he was always traveling. That actually helped me create a back story for Sara. I could understand the kind of insecurities she'd have because she didn't have a father around. I totally got all the anger and frustration too because I myself am a very temperamental person: my anger has often gotten me into a lot of trouble because I just flare up! The tantrums I was throwing while playing Sara were mostly pulled out of my own life. I was a pain-in-the-ass teenager and I used to give my mom the hardest time!
I'm going to say something here that a lot of people might not agree with, but if you think about it, it takes a lot of guts to love somebody knowing that they don't, can't, or will never love you back. A lot of people relate to Sara and the mess she's in, but they'd never admit it because it would end up reflecting badly on them. I've actually had fans come up to me and tell me that they feel Sara's pain.
So yeah, there are definitely some shades to Sara's personality that I relate to and I'm sure there are lots of other people who feel the same way.
On love, suicide, infatuation and jealousy…
I think suicide is just a wrong approach to life. At the same time, if I say there shouldn't be jealousy in love, I'd be talking rubbish. Where there's love, there's going to be jealousy and anger because love has these amazing shades; it brings out the worst and best in people.
If in real life I ever found myself in a situation similar to Sara's, I'd probably just wait and love the guy from a distance, I'd never think about destroying the guys home and life during my wait. Of course, I probably won't be able to bring myself to marry someone else, but at the same time, I'd be happy if the guy's happy living his life. At least that's what I'd like to think.
Infatuation mixed with jealousy and selfishness can be detrimental, and that's what happened in Sara's case. She didn't just want Ashar to be happy; she wanted him to be happy with her and no one else. To me, that's not love. It's more of a competition, which is just wrong. If you truly love someone, you could never let them suffer because by the end of the day, you'd just die of all the guilt.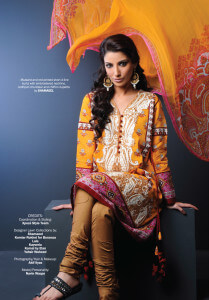 On Mahira Askari Khan and Fawad Khan…
I have worked with Mahira previously so naturally we were very comfortable with each other. It was like we were both school friends who'd graduated and were now working together. We weren't VJs anymore, this was serious stuff. Of course Mahira has acted before in 'Neeyat' and 'Bol' and this was my first play, but it seemed it was a very natural transition for both of us. She's just a lot of fun to be around. I especially enjoyed shooting the scenes where I come in and start barking at her, saying all sorts of horrible things like: "Go find somebody of your own standard and bla bla…" I used to find it extremely hard to be so harsh and Mahira used to urge me to get so angry and charged up that I'd almost be ready to smack her!
Fawad is a total gentleman and takes his work very seriously. I'd never had a chance to interview him when I was a VJ, so I met him for the first time on the sets of Humsafar. I liked his attitude on the set a lot. I think we're both quite similar in the sense we're both quite reserved. I never felt any kind of pressure from him even though he and I had some very difficult scenes together. My character constantly kept telling Ashar that she loved him… and I'm sure there must've come a point when Fawad wanted me to just shut me up! He's the kind of person who gives you room to be comfortable and I really respect him for it. I hope I get to work with him again soon.
On Hina Bayat and Atiqa Odho…
Hina Bayat is perhaps one of the most wonderful women I've ever met. We were extremely chatty together and I really enjoyed working with her. We would sit down and discuss our scenes and improvise and then run the changes by Sarmad to see what he thought. I think I enjoyed myself most while acting with Hina. Let me tell you, she isn't one bit as serious as she looks like on screen. She has an amazing sense of humour!
And Atiqa Odho, well, is Atiqa Odho. I remember I was really nervous the first time we met on the set and she put me at ease right away. She was so nice to me and Mahira and Fawad. It feels so good to know that your seniors who you've looked up to all your life are actually genuinely nice people and encourage you to do your best. I think I got extremely lucky because I got a chance to work with her and a bunch of people who've all been so well received on screen. It's humbling.
On the director who churned gold: Sarmad Khoosat…

Sarmad Khoosat is just too good for words. I can only hope that the people I work with in the future are just as patient, understanding and educated as he is. Working with someone like Sarmad is not something I'm going to forget anytime soon. He's an amazing person and director, and extremely funny too. He gave me the room to breathe and improvise. He would just ask me to give him options so I could do a scene in a low tone or go completely hysterical, and then we would mutually decide which one was better! I remember I had a lot of difficult scenes with crying, screaming, throwing stuff, and saying the worst kind of things, you know, things I could never say to anybody in real life. And I owe it all to Sarmad for giving me the confidence needed to pull it off. If Sarmad hadn't put me in the comfort zone, I would never have given the performance that I did. Even on the firs today of shooting, Sarmad took me aside and told me that everything would become much easier for me if I stopped thinking of my part as a negative role. He told me that Sara is just a poor girl who happens to love a guy who sadly doesn't love her back.
On the overwhelming world-wide reception of Humsafar…
The kind of response we've received from the world over is just too overwhelming. Mahira, Fawad, Sarmad and I have often discussed this but we really can't understand what happened here. It's like a dream! Sure, everyone hopes their play does well, but this is just phenomenal! None of us had the slightest idea that Humsafar would go on to become the next big thing when we were shooting it.
I guess we were just lucky. Humsafar's being compared to 'Tanhaiyan', 'Ankahi' and 'Dhoop Kinaray' for crying out loud! How insane is that, right?
Our industry isn't looked at with much respect, and maybe Humsafar has somewhat changed that perception. It's a Pakistani product with a very Pakistani cast and crew. It makes me super happy to know that people living in Australia, American, Holland and even India love this Pakistani product so much.
On how Humsafar has changed her life…
I've been catering to a certain age group all my life, but now that uncles and aunties recognize me and come to me and congratulate me on my performance and discuss Humsafar with me, it's all very overwhelming. I'm being hated world over. It's kind of a good thing because I know that if I wasn't that good on screen, people wouldn't hate me as much. Am I weird for thinking that's beautiful? People who didn't watch Pakistani dramas are watching Humsafar. In fact, people like my mother who were big Star Plus addicts have actually started watching Pakistani TV again! I've had a lot of ladies confess to me that Humsafar and I have managed to get them off their Star Plus addiction and that really makes me very proud!
Everybody wants to be appreciated for their work. I don't care about anything else as long as I'm known and appreciated for my work, and Alhamdolillah, Humsafar has done that for me; it's spoilt me! People have actually come up to me and told me that they never noticed me before. They want to know what other plays I've done before and are always surprised when I tell them that Humsafar is my first play. It's flattering to know my fans expect me to have done something good before to have been able to pull something as great as Humsafar! It's a great compliment.
Humsafar has'nt just changed my life, it's changed all of our lives. It has truly been a dream project for me and now that I look back, I'm just glad to be a part of it all. I'm so happy this "accident" happened!
On all the Humsafar-related parodies, comics and jokes doing rounds on the internet, and why she doesn't follow them…

I don't like to keep track of it all, majorly because I don't use Facebook that much. My friends keep me updated on what's going on though, and I think that's enough for me. I mean, sure, I'd like to know through people whether I performed well or not, but I try and stay away from the whole Humsafar jokes, comics and jokes even though I know they're not all necessarily nasty. In fact, I think the biggest compliment I could ever have expected is people doing all sorts of parodies on me and the play. The response Humsafar has gotten is amazing, but for now, I'm in my own happy place and I'm OK just knowing that it's done this well. People hate me but they love my acting… for now, I'm cool with that.
On Quratulain Balouch and "Wo Humsafar Tha," the song that gave everyone goose bumps…

I remember it was the last day of shooting Humsafar and Sarmad sat us down to discuss the soundtrack. When he mentioned he was considering Quratulain Balouch to sing the title song, I thought he had a catchy tune about "pyar" and all in mind… but then when I heard "Wo Humsafar Tha," which was the total opposite of what I was expecting and it gave everyone goose bumps! I was totally blown away! It's one of those songs that come by every 10-15 years and shake things up; it's a complete package. Quratulain Balouch sings like a dream. Sometimes I actually wish I had her powerful, soulful voice!
On Josh, the movie she recently finished shooting…
Well, Josh is an international venture and will hopefully be released worldwide sometime before the year ends. I think we'll be taking it to some film festivals around the world as well, and that's really an exciting thought. It has a great cast that includes Mohib Mirza, Aamina Sheikh, Khalid Butt and Tipu Shah, who I've worked with before on a telefilm "Ab Set Hai" back in 2010.
It's directed by Erum Parveen Bilal. She's one of those hip, cool directors that make everything fun to do. Every time she felt we were losing it or the energy level was plummeting, she'd make us all jump and scream at the top of our lungs like crazy people! It was all a lot of fun. Initially, I had qualms about doing it since it wasn't really a big role, but Erum convinced me by making me look at it as a project that will hopefully do good things for me. I think that's a good way to go about it and I'm glad I did it.
On her role in movie, and the little bit of the story she's allowed to leak…

I'm playing a reporter who works for a channel and is friends with Aamina Sheikh's character. It was so familiar for me because I've worked for a channel as a VJ before. I drew a lot of inspiration from there. It's basically about current events taking place in the country at a particular tie and how people react to them, with special focus on someone who finally decides to do something about it. I'm not really allowed to talk much about the story and I definitely don't want to give anything away that'll ruin it for you or other people. I can assure you though that it'll be an interesting film to watch because we really enjoyed ourselves while working on it.
On the potential of Pakistani filmmakers and how she's looking forward to watching all the upcoming Pakistani movies…

Pakistanis are experimenting more with movies now than they've ever done before. Look at 'Bol'. It was a brilliant movie that addressed such important issues in such a beautiful way, and now other filmmakers are trying to make interesting films as well. I'm very excited about the upcoming movies 'Seedlings' and 'Waar'. I'm actually going to go stand in a line to buy a ticket to see them. It's all about supporting your own people and talent. I look at all these projects as baby steps that'll eventually lead us to bigger, better things. Of course you're not going to become Martin Scorsese in the first go, but with the support and right kind of criticism, who knows what one can go on to do, right?
On her second television play, a star-studded comedy…
I'm currently working for another play which is a comedy. Once again, I've been blessed with an opportunity to work with a phenomenal cast that includes Bushra Ansari, Saba Hameed, Javed Sheikh and Hina Dilpazeer. I'm the only new one on the sets, so it does get a little scary at times, but they're all extremely helpful towards me. Doing comedy and making people laugh is serious business, so in ways this play is proving to be harder for me than Humsafar. I just hope my comic timing is correct.
This is going to get wrapped up in March, and only then will I think about my next project. I like devoting all my attention and energy on one character at a time. I can't do shoot-hopping like other actors at all.
On the unlikelihood of her turning to direction and/or production anytime soon…

I'd like to focus on being an actress for now. I gave ample time to myself to become a good VJ and RJ. Humsafar was just step one for me in the world of acting. I now have a lot to learn and a long way to go. I don't want to get into direction or production just yet because it's not the right time. I'd rather take a year off to do my homework first. I've done my minors in filmmaking in college, but I'm very rusty at the moment and would prefer to do my research and polish myself before jumping into something as serious as that. Everything I do is serious work for me. My friends mock me for being so uptight about my work, but I'm sorry, that's just who I am!
On the headache politics gives her…

I'm not at all political! In fact, I'm so politically incorrect, it's not even funny. I actually try hard to stay away from politics because it gives me a bad headache. I don't support anybody. I think politics is evil and dirty, and I can't stand the politics that's shoved in our faces on television. I'm a very straightforward person; I think life's too short to play games. It's a shame that our nation prefers politics over entertainment. It's pathetic.
On the importance of good hair, and the notion that putting outfits together is a "nuisance"…
Honestly speaking, I'm the least stylish person I know. The only thing I do pay attention to is my hair. If I'm happy with the way my hair looks, I'll be on top of the world! But if God-forbid I'm having a bad hair day, I could be wearing the best gown by the best designer in the world and I'd still feel like crap!
I know this probably sounds weird, but I don't like getting dressed up at all. I think getting made up and picking out clothes and the whole girly routine is a waste of time. I'd much rather be in my pajamas at home or a pair of jeans or lawn shalwar-kameez if I'm going out. I'm a minimalist. I don't like complicating stuff and putting outfits together is just a nuisance!
On lawn…

Surprisingly, I'm quite impressed with the kind of stuff our designers are doing with lawn these days. I absolutely loved the clothes we did the shoot with. Some of those outfits don't look like lawn at all what with all the churidaars and A-lines and short kameezes, and the incredible work done on them! I'm definitely going to buy one or two of those pieces!
On the cover shoot and interview with Xpozé…

One of my first interviews ever was with Xpozé, and I still have that copy because I absolutely cherish it. I just found out that it was the first issue of the magazine as well, and that makes it all the more special! I've done the 'Humsay' cover as well, but everything was on a bigger scale with Xpozé. Everything was more professional and fun with you guys even though I suck at posing. I had a great time on the shoot, obviously, and even now, as we're talking, I have to say that it's very rare that you're so comfortable giving an interview that you don't realize how much time has passed and that you've actually spoken so much! This is one of those extremely memorable interviews, and I hope everyone reading it will enjoy it just as much as I enjoyed giving it!