Who doesn't love London? Those who've never been there dream of visiting and those who have can't wait to fly back – even if it's just for a few short days during summer holidays. But for people like me who's been lucky enough to live in this metropolis of dreams, London is a whole different story. We know that the city is as multidimensional as it is magical and charming; that it has a bit more to offer than just Big Ben, Buckingham Palace and the London Eye.
When I moved to London, I learned what it felt like to fall head over heels for the first time… and my love affair with the city has grown more intense with each passing day ever since. When you love something, you try to record and preserve all the memories you create with it. I've clearly had no professional training as a photographer and don't own a fancy DSLR – and I'm sure it shows – but if I've learned anything in the past two years, it's to make best use of your resources and never think twice before trying new things… so here's a little homage to my quirky, beautiful new home, as seen through my iPhone…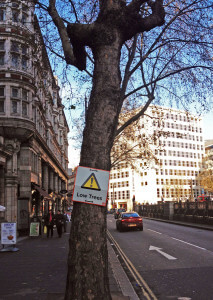 Some Britons think a bit too "highly" of themselves – literally!
If I had to guess, I'd say putting up signs and labeling things is every Briton's favourite hobby – right after queuing, of course. Everything in London is diligently labeled with information. Whether some of that information makes sense in the first instance or not is up for debate!
Making merry at Hyde Park.
If you're ever in London from early December till mid-January, a couple of evenings at the Hyde Park Christmas fair should definitely be on your itinerary. Lots of good food, infectious smiles and tons and tons of beautiful, brilliant lights that are sure to charge you up for the holiday season.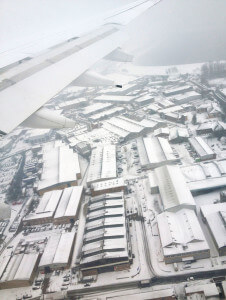 Hey there, beautiful. Has anyone ever told you you look amazing in white?
Falling in love with London in summer is easy; falling in love with it in winter is inevitable. I took this photo right before landing at Heathrow on the morning of 2013s first snowfall, and it's got to be one of my favourite pictures of my favourite city.
There's beauty in symmetry, even when you're underground.
Angel, my home station, has the longest set of escalators in London with a vertical rise of 90 feet and a total length of 197 feet. I remember feeling slightly dizzy the first time I stepped on them. Riding them on a daily basis for over two years I'm now used to the depth/height, but the fascination has yet to wear off.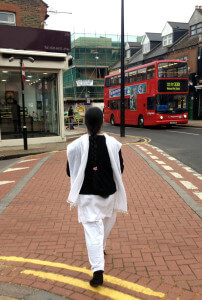 Desi charm in charming pardes.
There are more Pakistanis, Indians and Bangladeshis in East London than there are Britons, and this young lady with her well-oiled two-foot braid proves that you can take a desi out of her desh, but…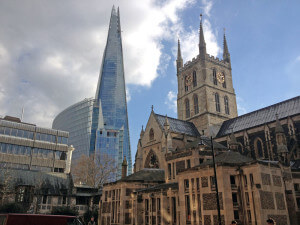 The Shard over-towering Southwark Cathedral, or is it?
While many Londoners are proud of their city's architectural growth, many are still irked by the building of ultra-modern metal and glass skyscrapers that are essentially stealing the light from London's trademark low-rise classical architecture. I belong to the second group naturally, and have spent many afternoons wandering aimlessly in the old city admiring Wren's inspirational designs as well as the many Georgian and Victorian structures that London is best known for.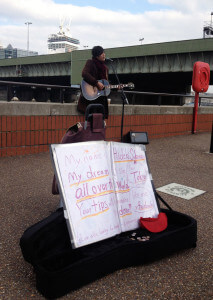 Realising dreams on The Queen's Walk.
"My name is Hideki Sakomizu, from Tokyo. My dream is to sing all over the world. Your tips will help me achieve the dream."
Sakomizu is one of thousands of artistes who perform on The Queen's Walk – a pedestrian path extending for several miles on the south bank of Thames on which tourists can walk from the London Eye past numerous attractions to Tower Bridge and the Tower of London. I don't remember what song Sakomizu was singing or if he was any good, but I think anyone who travels across the world for his dream deserves a good cheer. He is available to be liked on Facebook, do check him out!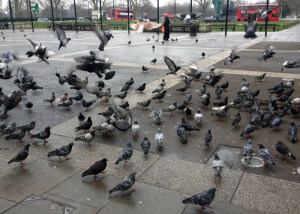 Fly away, rats with wings.
London's mayor Boris Johnson calls pigeons "rats with wings," and boy is he right! Even though Trafalgar Square has now been cleared of birds for health reasons, London's pigeon population is still far too high and irksome.
Go away, Monday!
Like any civilized Londoner, I usually listen to music or read a book on the tube – except on Monday mornings, when I get my entertainment from watching people fight their weekend hangovers!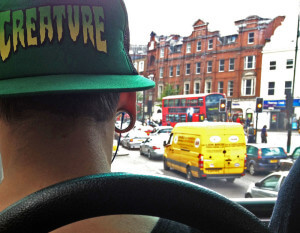 Creature. If I've learned anything in London, it's not to judge. But if you've got a stretch piercing the diameter of which is larger than a penny's, chances are I'm wincing and flinching somewhere near by… and no, that doesn't mean I won't try to look through them and take a few quick pictures as well.
Mind the Gap, literally.
For a true Londoner, "Mind the gap" is not just a warning phrase; it's a way of life.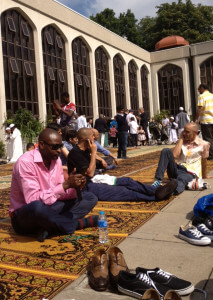 Hold on Allah mian, I'm on the other line.
Eids in London are quite dull, and understandably so. I decided to be a good boy last year and started my day with namaz at London Central Mosque in a rather laid back, mobile phone heavy atmosphere before heading back home and slipping back into bed for the day.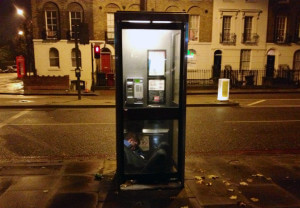 London's smallest apartment: 2X2 square feet, glass walls, phone included.
Homelessness is one of London's biggest failures. In a city as urban and accommodating as London, sometimes it's hard to believe that more than 6000 people don't have a warm bed to sleep in. I took this picture near my apartment in central London on a freezing December night while walking back home from a party, and it broke my heart.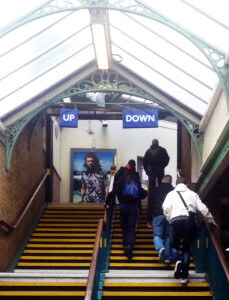 Time for educational reforms in East London!
There are parts of London that aren't exactly known for its cultured, well-read inhabitants, but I noticed this pattern at one particular station over a few days, and it was both hilarious and worrying at the same time.