In all honesty, I'm not very good at making friends. I take a long time to reach a point where I can hang out with someone comfortably and just chat away for hours on end. And that's why I was a bit surprised at how well and quickly I connected with fashion doyenne Faiza Samee on her recent trip to London: her second home.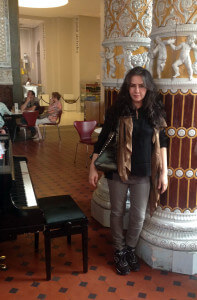 We met for the first time for a quick chat over evening tea in Holland Park shortly after she presented a very well-received collection at the 'Fashion Parade' in Kensington Palace, and we soon found ourselves bonding over our mutual love for the arts in the overwhelmingly beautiful corridors of Leighton House. Fast forward a couple of days, and we're oohing and aahing our way through Victoria & Albert – a museum she's held a special bond with since she was invited to exhibit her collection there in 1995.
Faiza Samee undoubtedly stands proud at the helm of Pakistan's fashion industry not just because of seniority and experience, but because of her innate knack for dovetailing tradition with modernity – a skill just as impressive to have as it is essential. She's also quite meticulous, but more than that, I realise her success as a lacquered fashion designer, businesswoman and mother has much to do with the fact that she is perhaps one of the most grounded people I've ever met, and our conversation that ensued proved just that…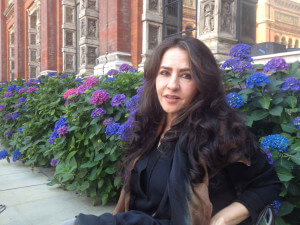 On her 50-odd year love affair with London
"London and I go back a long time. My parents brought us all to visit one summer when I was eight or nine years old. We stayed here for two and a half months and I just fell in love with the place. It's hard not to. It was a totally different world from the one I had grown up in. Of course the city has changed a lot since then; the people have evolved and the demographics are very different now too. In those days there were hardly any Indians and Pakistanis living here. It would be quite exciting to see someone in the streets. There were very few restaurants selling desi food – now chicken tikka masala and curry is almost like a national dish.
Generally, the people were more much more refined – they would actually make a point to dress up before leaving the house. Women would always be dressed up in proper coats and high heels. Even the men were effortlessly stylish and well-dressed all the time. I remember when we first came here my father actually brought a morning gown to wear over his night suit just to fit in and be appropriately dressed!
One thing I remember distinctly is how when we'd go to a shop to buy candy, the lady on the counter always told us to say thank you. Children had to mind their manners, and I'm so glad I got to experience that as a child.
I got married when I was 16, and moved to Dhaka with my husband who was based there at the time. Shortly after, things in East Pakistan started to get worse and we decided to shift to Karachi. Subsequently, my husband had to come to the UK for some work and I tagged along. We sneaked in a short Euro trip as well. We stayed in London again for a few months. During this time, I did a three month hairdressing diploma from Waterman's School of Hairdressing to keep myself busy. It was a fun experience; I learned how to cut, curl, perm and colour hair. Since I was married so young I never got a chance to do my graduation, that's why this course was very important to me. So technically, I also got my education in London!"
On her life in London now
"I think I've come back to London almost every year since 1972, sometimes even twice or thrice a year. This is home. It's a beautiful place to live, relax and unwind. The weather is beautiful all year round. There is so much greenery and parks everywhere, and you can also walk to anywhere you want. Karachi is not a walking city and you get tired of riding around in your car all the time. If nothing else, my husband and I go for walks in the parks here and have tea in cafés – it's very therapeutic.
I also love visiting all the museums. I suppose I've been to almost all museums several times and I'm still not tired of them! I also enjoy going to the West End to watch theatre sometimes. You can never get bored in London, there's always something or the other happening for everyone. There are so many events and activities specifically for the South Asian community as well.
I also enjoy cooking a lot. I don't get to do that in Karachi because of work, but I make it a point to cook almost daily while I'm in London. I find cooking to be very refreshing and easy here. You can find almost any ingredient; all you have to do is go to the specific stores. I like cooking desi, Iranian, Thai and Italian food, and I have special stores near my place where I can get all the ingredients I could ever possibly need. My husband also loves fine dining, so we make it a point to dine at Michelin Star restaurants often.
Another thing I love doing here is housekeeping and cleaning. I don't get to do that in Karachi. I'm very lucky that I live next to Hyde Park. There's a secret garden in Kensington Palace which is very beautiful and I love going there every chance I get. Close by there's a rose garden which is also very beautiful and I love spending time there as well."
On family values and raising children she's proud of
"So, after spending a few months in London and completing my hairdressing course, we moved back to Karachi. Soon after, my eldest daughter Aisha was born. The next two daughters came one after another – I had three girls in three years!
I've always been a very hands-on mum. I never hired a maid to look after the children because I believed in doing everything myself. Now that I look back I'm really glad I made that choice because it makes a huge difference in your and your child's life. I enjoyed the time I spent with my children very much.
Even though I was very young I firmly believed that if I had brought someone into the world, it was my duty and responsibility to look after them myself. I didn't want to hand them over to someone who might not share my values and ask them to raise my children for me. Besides, kids grow so fast. To me it still feels like yesterday when they were little kids but now my daughters have their own kids! They've all grown up and moved out of the house and have their own lives. You share a special bond with your children if you raise them yourself and spend time with them while they're growing up. My eldest daughter and I only have a 17 year age gap – we're like sisters. In fact, we're all an incredibly close knit family. All four of my children are amazing and they're doing well for themselves and I couldn't be prouder of them."
On her family history and the birth of an unexpected career
"My mother's father was an Arab who used to trade in pearls, and my mother was from Afghanistan. They lived in Bombay, where my mother was born. Most of the girls in Bombay in those days would learn some kind of craft and since karchop was quite popular back then, my mother decided to train in that. She later taught the art to my sister Huma and I. I can still work on an adda myself and create beautiful karchop designs with my own hands. I can sew and do zardozi work as well.
I'm so glad that my parents forced me to learn the craft. My mother used to say that we should push ourselves to do and learn more; that we should never handicap ourselves from a skill or craft that we have the capacity to learn and master.
I had never planned on becoming a professional fashion designer. I had always had the aesthetics and interest in colours, fabrics and textiles like my mother, but never considered turning it into a profession. When my brother was about to get married, our mother had already passed away. Since I'm a bit of a perfectionist, I wasn't happy with the kind of work being done on his buri, so I decided to do it all myself. I used my mother's craftsmen and later also decided to make a private collection for myself, my sister and my daughters. Then one thing led to another and suddenly here I was, designing clothes professionally."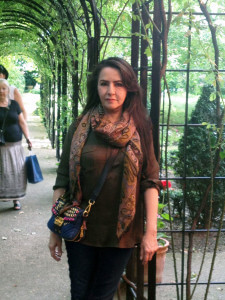 On the importance of salvaging old craft and embroidery techniques
"When I started out, most of the traditional craft of embroidery, karchop and zardozi was almost dead. Nobody had been doing this kind of work for almost 10-15 years. There were certain areas where some specific kind of work was being done, but I noticed a severe lack of quality over all. Also, the dedication and skill in craftsmen was dying because they weren't getting the kind of love and payment they deserved. Craftsmen were unmotivated and upset because they didn't have work. Some craftsmen had spent their whole lives mastering a particular stitch and now they were out of work. I realized that if I didn't go all in and make an effort to revive the craft, and if those few remaining craftsmen died without passing on their skill and talent to new workers, then the whole craft would perish forever.
Initially, I'd never thought that I would be able to revive old school embroidery the way I have, but I'm very happy that I have been able to preserve the art to some extent."
On the dying craft she helped save with the help of dying craftsmen who saved her
"Believe me, when I started the work and put together a work shop, the average age of the craftsmen was 75-80 years old. Hospital trips were a fortnightly thing in my workshop – someone or another was always having a heart attack or a stroke or going into a diabetic shock!
People had written these people off as retired souls. They couldn't find work anymore, and I became a source of income for them. I believe in giving my workers the respect they deserve, and these people deserved it more than anyone. They were happy to be working again for someone who appreciated their skill and art.
Chacha RafiUllah, who was one of my eldest and dearest craftsmen was almost blind because of diabetes, and yet he would embroider and sew better than anyone else. I remember I had brought a sample of "kursi ki jaali" from somewhere and none of the others could replicate it properly, and Chacha RafiUllah, despite his bad eyesight did it perfectly in one go. When I asked him how he managed, he told me he had spent his lifetime mastering the stitch; that he didn't need to see it to be able to do it! You can't find that kind of people anymore. Eventually, I got them to train younger people too, and they all work for me now."
On India: her biggest market
"Ever since I showed my first a collection in India back in the mid-90s, I've had a special bond with the place. It's one of my biggest markets. I was part of a group of Pakistani fashion designers that were invited to show their collections at a SAARC expo, and believe me; my entire collection was sold out the day I landed – even before the show! A very nice gentleman who later became a good friend named Pran Talwar booked most of the pieces as soon as he saw them. After the show, he sent me a briefcase full of cash as payment just like you see in old Bollywood movies. It was surreal!
I now have an excellent clientele including Ashi Burman of Dabur, Ritu Ansal & Madhu Sood of Intercontinental, Sangeeta of Shriraam Hariraam jewelers to name a few. I've built many valuable contacts and clients in India since that first trip.
I think the reason I did so well in India also had to do with the fact that I had designed Benazir Bhutto's wedding dresses. I remember how the Indians reacted when they found that out: the media kept asking me if I had dressed any famous people in Pakistan, and I casually told them that I had designed Benazir's wedding dresses, and the press went mad! I was shocked at the reaction because I honestly didn't think it was that big a deal. For the wedding I was asked to replicate a beautiful white sari from Lady Haroon's 1930s collection and turn it into a lehnga. She wanted it to sort of look like a dress because of her Iranian origin. If I remember correctly, Benazir was visiting Japan at the time I was in India, and the news of "Benazir's designer" showing her collection at the SAARC summit even made it to Japanese newspapers!"
On her decision to only sell to, and not buy from India

"I only sell in India; I don't buy or get anything made from there. It's a conscious decision. I think Pakistan has so much to offer; we have so much talent in our country and I don't want to be the one to put our craftsmen at a disadvantage. No doubt it's an easy way out – you can find readymade material from there which might cost less and people would gladly buy it too, but I don't think it would be fair to Pakistani craftsmen if I started doing that. I have built a very special workshop and all of my craftsmen are very important to me."
On not wanting to market her label in the UK and the lack of an ego
"There is a market for my work in the UK as well, but I have decided not to expand and sell here at all. I get offers on an alarmingly regular basis from all kinds of retailers here, but I just don't want to do it. London is my sanctuary; I come here to get away from work. I don't want to ruin that by mixing work and pleasure. I even got an offer from Selfridges a few years ago. We had a meeting and they were very keen on me doing samples for them, but were only offering me 30 percent of the retail price. Those sums didn't work out for me because at the end of the day I am a businesswoman now. I know a lot of designers would have jumped at the offer because Selfridges is a big deal after all, but I just didn't want to do it. Why sell myself short just so I could sell my clothes at a fancy store in London? It's not like I have an ego to feed or anything! Allah mian hasn't blessed me with an ego and I'm thankful for that.
I was also once also asked to "give" clothes to Ronald Raegan's wife, but I refused to do it unless I was paid first. Dressing the first lady might be high on some designers' wish lists but not mine. I have a policy: I make beautiful clothes and I sell them to anyone who appreciates and wants to buy them. I know a lot of desingers give away free clothes to journalists and magazine editors but I can't function like that because I'm not desperate for recognition or publicity; I just can't give my hard work away for free because it would not be fair to my business."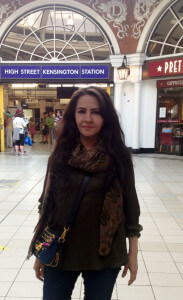 On her latest collection shown at the Fashion Parade at the Orangery in Kensington Palace
"This collection evolved out of the one I did for Amsterdam Fashion Week last year. I unfortunately didn't get a lot of time to develop it further even though I sold a lot of pieces in India. When this offer to do the Fashion Parade came along, I decided to do it because it would give me a chance to revisit last year's collection and work on it a little bit more. I made some new pieces for the Fashion Parade of course, but essentially it had the same inspiration as last year's collection. I even reused some pieces because I wasn't able to properly finish work because of the turmoil in Karachi before I flew to London. I'm very glad I made the decision to do the show though, it was fun and the collection was generally very well received."
On baseless criticism and the fashion review irked her to no ends
"I'm not the kind of person who looks for appreciation or validation, whether it's for my personal life or work. I know I work hard and try hard to do beautiful work and that's enough for me. That's why it surprises me when some people try to baselessly criticise me and my work. I was very disappointed by the review Fifi Haroon wrote for The News: it was full of baseless attacks. Apparently, nothing about the show was good enough for her. While international magazines Elle and Vogue India proudly wrote that Anamika Khanna showed her collection at Kensington Palace along with a slew of Pakistani designers, Pakistani journalists, and I'm sorry I have to say this, but true to their nature, couldn't be happy for us and had to write horrible reviews that didn't have any basis.
Fifi first rebuffed the venue. According to her, the Orangery is not a part of Kensington Palace. It's just a regular tea shop where you can get tea and scones for under a tenner. What she doesn't realise is that the Orangery was made in 1704 and was part of Queen Anne's residence. It is very much a part of Kensington Palace. If she was trying to be an investigative reporter, she failed miserably.
What really ticked me off though was how she suggested that my designs were "inspired" by Sania Maskatia. Now, I have nothing against Sania and I'm sure she does great work, but I have no idea what Fifi was suggesting because I've never seen her work before. I don't buy magazines and I don't watch other people's shows. No one has ever accused me of stealing designs or being inspired by others in my entire life, and that's why I decided to go on Facebook and get my point across publicly. If you want to do investigative reporting, you should do your homework properly. Instead of suggesting that I was inspired by Sania Maskatia's last month's collection, why don't you complete your research and see if maybe Sania was inspired by the collection I showed in Amsterdam last year? And I wasn't the only one attacked surprisingly. Every designer who showed a collection was a copycat. Nobody had come to London with anything original.
I got a private message after the Facebook incident but I never replied because I'm really very angry right now. Anybody who knows me knows that I don't get angry easily, but this episode has really ticked me off. Deep down, she really shook and hurt me by suggesting that I had been inspired by someone else's collection."
On how annoyed she gets when fashion journalists try to give lessons in fashion marketing
"Pakistani fashion critics – wait, I wouldn't call them critics – fashion writers, love lecturing designers on how to market their clothes. Fifi suggested I should sell my clothes at Marks & Spencer. Can you imagine that? Then she says we should show our collections at V&A. Alhamdolillah I've been there and done that as well! I held an exhibition at V&A museum for six months followed by a three month exhibit at Royal Museum of Scotland 19 years ago!
She also suggested we should market our clothes like Wardha Saleem does. I mean, seriously? Nobody is asking you to become our business managers. I don't need you. I for one have no interest in marketing my clothes here, so why should I have to listen to a journalist's ridiculous ideas?
I was seriously very disappointed by the report in The News and I took the debate to Facebook because I felt this issue needs to be sorted one and for all. We can't have our own journalists pull us down like this. What's wrong is wrong, and it needs to change. Indian journalists never talk about venues and petty things like the price of tea and scones while reporting fashion. In fact, they don't even critique collections. Your main focus should be the collection only – report it like you see it. Our journalists think that because they have a pen and paper and a magazine at their disposal, they can say or do whatever they want and intimidate designers with their power. To be honest, I think it's a rather stupid way of doing things.
A lot of people have engaged in the conversation on Facebook and they suggest it's because they have some sort of a complex. Or maybe because they get free clothes from their designer friends so they promote them by criticizing everyone else. In either case, I couldn't be bothered, really."
On the direction Pakistani fashion is taking and her business one advice to new designers
"Yes, I'm generally very pleased to see Pakistani fashion doing so well. There is something being made to cater to everybody's need, and that's a great sign. Of course everything isn't to my taste, but that doesn't matter. I can't say much about others' work because I really don't watch fashion shows or buy magazines.
I think the designers should continue to work hard and show their collections whenever and wherever possible. They shouldn't be intimidated by fashion journalists and depend on them to make or break them. If your work is good, people will buy it. Designers these days are blessed to have the biggest market at their fingertips. Sell your stuff on your websites, be internet savvy and build an international clientele by going online. People have become very fashion conscious the world over. They spend most of their finances on dressing themselves up. Fashion is a huge industry; people need new clothes to wear all the time so they can post pretty pictures on Facebook and Twitter. Make use of that!"
On the importance of quality and being true to her own work

"Quality is extremely important to me, whether it's in making my own designs or while shopping. Every piece I create has to be perfect, without even the slightest, otherwise undetectable flaw. If there's something wrong with a design or piece, I make sure it is corrected as soon as possible. I'll do it even if I have to unstitch a few days' worth of embroidery or even discard a whole piece. I can't be happy with myself if I'm not satisfied with the work I've done, and that can only happen if I know that there have been absolutely no compromises on quality. "
On unwinding and the life she's created for herself
"I think the best way to unwind for me personally is being by myself for a few hours every day. I don't just enjoy spending time with myself, I actually think it's essential for me to function properly. My biggest friend and my biggest critic both live inside me. Just being in touch with my inner self is very therapeutic and keeps me grounded. I love drawing, painting and reading during this time. It helps me get away from the mad competition and daily rush of things and just take a step back from it all and appreciate the smaller things in life. I'm very good at multitasking, and also love listening to all kinds of music and cooking like I mentioned earlier.
I've also become quite internet savvy, and love spending time online doing research. I'm not a TV person at all, I would much rather travel. I'm a very curious person, and love learning about new things and cultures. Even though I now know it at the back of my hand, I love getting lost in London. I think I've built a rather nice lifestyle for myself and I'm very happy. Inner peace has always been very important to me, and I think I'm actually quite blessed because I've achieved that!