Ali Safina & Hira Tareen are living proof that the age-old adage "opposites attract" might not entirely be true. Sure, the best thing about being different might be that it allows you to compensate for whatever quality or character trait you lack and wish you had – but what if you found the one person who had the same values, interests and thought process as you did? The one person who was exactly like you?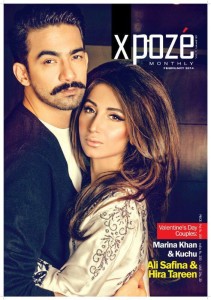 Ali and Hira have been lucky enough to find out. Not only do their stories read like slightly different version of the same book, they've found their best friends in each other as well.
"We're might be opposite in some ways and our approach to things might sometimes be different, but at the end of the day, our goal and target is always the same – and that's what makes us a great team," they tell me with matching twinkles in their eyes, and I know right away that I've found the perfect love story to share with you this Valentine's Day.
I met up with the newly married couple recently to talk about their individual lives and multi-faceted careers thus far; how Ali traveled from Oman to Scotland to Pakistan, and how Hira traveled from the US to Pakistan to US and back again; and of course the story of how they met, became inseparable and finally tied the knot last December…
ALL YOU NEED TO KNOW ABOUT HIRA TAREEN
Tell me a bit about your first modeling stint, and the ball that kept on rolling.
I started dabbling in modeling a bit back in 2001. My sister Zara and I decided to visit Pakistan from the States where we lived. I was a computer science major at the University of Texas at the time. Zara used to model, and even though I was still in my nerdy phase with glasses and pigtails, we were offered a photo shoot by Arshad Tareen, which was later printed in Visage. That was my first modeling experience. Even before that though, Zara used to experiment on me with her camera like a little guinea pig. After that first professional photo shoot with Arshad however, I was kind of hooked. All of a sudden, that two month trip turned into almost two years. We were getting so much work – from that one photo shoot, I was offered my very first fashion show in Pakistan, and then more shoots followed by some drama offers.
You were doing quite well for yourself here yet you still had one foot back in the US. What was the reason for that?

In 2003, I realized this whole modeling business was getting a bit out of hand. I was still too young and had taken a break from university to visit Pakistan, and somehow I'd found myself stuck in this lifestyle. I needed to go back and finish university. I was asking myself all kind of questions. What if it doesn't work out or my time as a model runs out too soon? What would I be left with then? I was at a crossroads between work and school. I used to be a computer science major back in Dallas, so I decided to go back to America for a few months, but then came back again because we had so much work we'd already signed on!
And then you left again – this time for seven years?
I had evolved and matured a little over the time I'd spent in Pakistan. Although I'd always been good at computers, I had also developed interest in arts and design. I already used to sketch and play the tabla, and I was also heavily into music. So I figured if I was going to continue school, I should incorporate my artsy side in it too. I realized I couldn't be a programmer for the rest of my life, so I went back and changed my major to advertising. After finishing my bachelors, I started full time work for hotels.com and Silicon Valley startups before getting a job at J C Penny as their interactive art director. It was a pretty nice job and I had everything. Everyone in my life admired my work, but something in me told me I wasn't happy. I guess that whole American lifestyle – even though I miss it so much after living in Pakistan for a few years – wasn't for me.
Tell me about the modeling agency you and your sister opened in Dallas. How did that start? Any particular success stories and fond memories from those days?

My sister and I started a modeling agency as a side business called H&Z Modeling Agency. We initially started with just talent management, but soon started doing events and fashion shows as well. We were building portfolios for and promoting south Asian talent in Texas. One of our models even won the Miss South Asia America pageant. Another successful memory from those days is when we arranged a really big fashion show and flew Nilofer Shahid from Lahore to Dallas. The event was called 'Deewan-e-Khaas' and it was a pretty big deal. Pictures from that show were also printed in Xpozé as well. It was a very successful fashion show and I remember Nilofer Shahid did pretty well at the exhibition the next day as well.
And what made you leave all that behind and move to Karachi the second time?

I like structure in my life, but I didn't like the structure America was giving me – the lifestyle was boring me to death. On top of that, all of my friends from work or the Indian or Pakistani community would always tell me that they saw me doing something else, something more creative. They'd tell me that I was wasting myself there and I needed to move back to Pakistan and do something big.
So moving back was a calculated risk for you?
Yes. I had already tested the waters and I knew what life in Pakistan would be like. Technically, I'd only gone back to the US to finish my education. I had something going here and at the back of my mind I always wanted to come back and explore that more.
In America, Pakistani media is seen from a very different perspective. I remember when 'Coke Studio' became big, all of my Indian and Pakistani friends started sharing videos- that was a proud moment for me. Pakistan was doing so well when it came to media. At the same time, the news and politics were a whole different story and that scared my parents. Especially my dad was very skeptical about sending me back to Pakistan. I still sold all my stuff, packed the bags and moved back to Pakistan in July 2010.
How easy – or difficult – was it for you to find your place in the industry after the seven year absence?
I don't exactly know how, but somehow there was a hype about me when I returned. A young model coming from abroad was apparently a cool thing. People were very supportive and willing to meet with me and try to find ways to work with me, so I had a pretty good jump start.
I was also already in touch with people I'd worked with in Pakistan before on Facebook. These people knew I was coming back, and the word just got around.
My first gig after coming back was for Maheen Khan. One day, I got a call from Fayyaz Ahmed and he asked me if I'd be interested to shoot for her Gulabo collection – it was a 14th August special, and was printed on the cover of Daily Times's Sunday Weekly. I had come back to Pakistan after seven years and my first project was such a patriotic shoot. One minute my friends were throwing me a going-away party, and the next they're seeing my new Facebook display picture with me wearing Gulabo and holding a Pakistani flag – I had arrived!
I remember my second shoot was for Xpozé with Rizwan ul Haq. This time it was me, Ayyan and Amna Ilyas on the cover. It was a multi designer shoot and a whole lot of fun.
Any particular photographers you enjoyed working, or built a special rapport, with? Were you finally happy?

I got a lot of work after coming back, but eventually I started feeling a bit unhappy with the way people were capturing me in photographs. Because I was raised in the US, the image I had of myself; the essence of my personality as I want it to be captured wasn't being portrayed like I wanted. I was being made to fit into this mold of a very Pakistani model. I'm pretty picky and like to have a say in the kind of makeup and clothes I have to wear, and so I was having a hard time digesting how I was being portrayed here in photo shoots. When you work behind the scenes as well as in front of the camera, you're more conscious of your own work. I wasn't trying to be a control freak, but I felt I wasn't being able to relax in front of a camera because of this. A fashion shoot is so much more than just the photographer. The model, the stylist, the clothes, the makeup and location – everything has to be on point, and if they aren't it just doesn't work out. Even my close friends were telling me they weren't sure I was being captured to my best potential. They pointed out that some of my best shots were taken in American, and that people weren't getting me here, and I agreed… When my sister arrived in 2011, things changed a bit.
How did you deal with working with photographers who didn't understand you? You've been here almost four years now – has it gotten any better?

To be honest, I still feel I haven't been explored properly by other photographers in Pakistan. What people tend to do here is they take look at your portfolio, fit you into a category and then keep you there. They don't bother to explore or get creative with you because they're used to cookie-cutter kind of work, and they're happy with that. There are some great photographers here, but I feel they need to experiment and give more models chances rather than just get comfortable with one model who can give the same poses in every shoot. I like working with photographers who tell you if something is wrong or if they want something to be different during the shoot. Feedback is very important. I don't like working with people who keep a poker face and keep on clicking.
You've been accused of only wanting to work with your sister. How do you respond to that?

That's not true. We're a team, sure, and I do post work on a lot of her work, but I've worked with some other great photographers too. Whenever Zara has a fashion client, I'm always there and we talk to them together; we come up with the locations together. We have a lot of combined creative input when it comes to photo shoots and I enjoy working with her, but I'm also always open to working with others.
Do you care much about what people say or write about you?

I'm still clueless as to what the general perception of me here is. Sometimes I meet people who tell me that I'm very easy to work with. Other times I meet people who tell me that they're surprised I'm so nice; that I have a very cold, intimidating look. I get mixed opinion about what people think about me. It's amusing.
Any particular designers you enjoy wearing/working with?
I love Saman Chaudhry's clothes and the way she brings funk to them. She's very innovative. I also like Adnan Pardesy's edginess. Leisure Club's Working Woman and Keysaiya are also among my favourites, along with Maheen Khan, of course. She's amazing and very graceful, I'd love to be like her eventually. I also like Sania Maskatiya and Ayesha Farook Hashwani – she makes quality clothes with exceptional workmanship. Sana Safinaz also always have something cool up their sleeve. There are a lot of Lahori designers that I admire but don't get to work with much like Mohsin, Ali Xeesha, Fahad Hussain and HSY.
Tell me about your work on television. Are you happy with the kind of acting you get to do in Pakistani dramas?
I wish I had Pakistani television figured out. Sometimes I don't even know what I'm doing on TV! My first TV project was an Eid telefilm directed by Shamoon Abbasi. I was paired with Danish Taimoor, and that led to more offers in soaps and serials, which has all been quite fun so far.
I took an eight week acting course at KD Studios in Dallas before coming to Pakistan, and the kind of acting I'd learned there is completely different from the acting done in Pakistani dramas. There, everything is about reactions. Here sometimes you just have to act to a lamp or a door!
Acting for me is something I feel that I just need to keep doing until I come across a role that's really meant for me. It hasn't happened yet and I don't think it'll happen very soon, but that's how it is even in bigger acting markets like Hollywood and Bollywood. An actor can work for years and years before being offered a role that they spend their lifetime waiting for. I need to keep working and showing people different sides of me so that one day hopefully something will click mutually between the director and me. I'm waiting for a role that someone feels no one can do justice to but me.
Any memorable projects?
I absolutely loved working on 'Mehrbano Shahbano' with Fahim Burney for which I got to play a spoilt brat and travel to New York. I enjoyed working with him because he's a very emotional director. He acts things out a lot; he's very animated and I love that about him. He gives great feedback too.
'Manjali,' which was highly acclaimed and won awards at Lux Style, was another memorable project, especially because it was my first acting experience with Ali. We were playing husband and wife and we had a very strained relationship. It was his first serious acting role as well.
Do you see yourself acting on the big screen in the future sometime? Do you aspire to work with someone in particular?
I definitely want to act in films. I feel my personality will be better shown on the big screen because dramas are more dependent on close-shots, emotions and expressions. Also, in dramas, characters are very limited for girls. If you're negative character, you really are a very negative character; but if you're a positive character, chances are you're not shown as an intelligent, outspoken person. You're likely to be shown as a very submissive, bechaari type of a girl… The message is: everyone should be like that because in the end the ones who keep quiet and silently suffer without opinion are the ones who're rewarded. I think that's wrong and don't want to encourage that kind of thinking. I have a very strong personality and I don't think there's anything wrong with that.
As far as directors go, I would like to work with Sabiha Sumar and Bilal Lashari. I generally like Woody Allen type films and look forward to the day someone will make something of the sort in Pakistan. I want to show the grey areas of relationships. There are so many award moments in life that're beautiful but sadly they're not shown on television.
Tell me a bit about the Pakistan DJ Network. What is it all about and what does it aim to achieve?
In Jan 2011 I started a group called Pakistan DJ network. The main motive was getting back into DJ-ing after a few years' break. I started when I was 16 and did proper DJ-ing in clubs and events in America, but gave it up because of school and work. This time, I wanted to focus more on electronic DJ-ing. The motive to start the group was to see who else is going this stuff in Pakistan. There are about 20 people in the network so far, and I've made Ali my partner now as well. Together we've hosted two big events so far. The first one was called the Karachi Meet-up, and the concept was to invite all the Karachi members to play for and get to know each other. Usually when you're a DJ playing at an event, there's a commercial requirement of the kind of music you play. The idea of this meet-up was to allow DJs to show their true colours to other DJs who would hear you out with an open mind.
Also, it's important to give young people in Pakistan an activity, something to do and look forward to. We plan on doing more events and workshops now…It's a healthy hobby for those who want to learn the art.
You've dabbled in DJ-ing, acting, modeling and a bunch of other stuff as well. What do you enjoy doing most?
I'm in a very transitional phase in my career right now. I plan to pick a direction this year. I've been doing a lot of things in my life: modeling, acting, DJ-ing, art directing photo shoots as well as graphic designing… I've been doing all these things and I've not been wanting to let go of any of them. I think it would be smart to focus on just a couple of things – not just one because that's not my personality. I have to have a few things happening simultaneously to keep me going.
I'm surprisingly more inclined towards acting these days. Being on the runway is very fun for me too. I'd happily give up modeling but the one thing that keeps me hooked is the occasional fashion weeks. I really enjoy them a lot. Walking on a ramp wearing someone's clothes doesn't sound very exciting, but there's a definitive thrill in it.
What projects are you working on these days?
These days I'm working on a telefilm for Wajahat Rao. I'm also doing a project called 'Mohabbat Ek Subh Ka Sitara Hai' that's on air on Fridays at 8 'o clock.
Right now I'm in my post marriage phase. I'm unpacking boxes, picking out furniture, upholstery and curtains for the house. I'm also very involved in domestic stuff. I recently did a very interesting shoot for Natasha's Salon with Zara, which will come out this month, probably around the same time as Fashion Pakistan Week – again something I'm very pumped up about!
ALL YOU NEED TO KNOW ABOUT ALI SAFINA
From what I understand, you're a mechanical engineer with a very unusual resume. How did you end up in the entertainment industry in a country you'd never lived in before?

I'd always had an inclination towards performing arts, but my parents – being typical Pakistani parents – told me that I should choose a more "solid" background. They gave me full freedom to choose my faculty though, and encouraged me to choose something I'd be happiest doing, as long as it got me degree that would warrant a proper job. They told me that once I'd finished my education, I'd have full freedom to do whatever I wanted. It was a touch route: to fulfill my dream I had to fulfill their dream first! Anyway, I got admission in computer aided mechanical engineering – which is basically the creative side of mechanical engineering, and I finally completed bachelors in 2004 before moving to Pakistan to chase my dream.
You got your first taste of radio and DJ-ing while you were still at university? Was it like you had finally found your calling?
I'd always been interested in radio, but in Oman the television and radio are controlled by the state, so you have to be a national to work on them, which is why I never had a chance. I got to explore radio for the first time in Glasgow where I was doing my honours. I was also exposed to DJ-ing culture there after I made friends with DJs who used to throw parties and play their music at events. I was very fascinated by the whole culture, and asked them to teach me how to do it as well. I eventually ended up joining Awaz FM which was the only Asian radio station there. While still at university, I had also formed a band called Supenova. I was the lead singer and we performed covers by Red Hot Chili Peppers, Incubus, Rage Against the Machine etc. For desi crowds, I also used to sing Atif's "Ab to aadat si hai mujhko" which was the new big thing coming out of Pakistan at the time! I also got a chance to play music as a DJ at a few Asian parties where I mixed desi music with Punjabi bhangra, which is still a pretty big trend in the UK. At the time, I was also doing odd jobs to earn some extra cash, and even got a gig as a bouncer at a club because I used to be a pretty buff guy.
What made you decide to come to Karachi – a city you had absolutely no connection with?
After completing honours in 2006, my dad arranged for a job for me in Oman, but I just couldn't imagine myself sitting on a desk from 9-5 doing the same thing over and over again for the rest of my life. I asked my dad to give me a chance to explore myself and see where my talent takes me like he had promised all those years ago. I wanted to polish my singing, acting and DJ-ing skills, and he finally agreed. He thought it would be a two-three month craze and I'd get over it shortly. I told him I was going to move to Karachi. Now, our family was totally alien to Karachi, and I have no friends or family here. I told them about NAPA and my intention to take admission there!
What did you study at NAPA? What was it like, and how did it help you find work?
When I came to Karachi, I got off the plane and went directly to NAPA, where I met Arshad Mahmood, Zia Mohiuddin and Talat Hussain – people I'd watched and admired my whole life. I ended up studying theatre in NAPA for two years. Initially I'd planned to get a part time engineering job to pay the bills and support myself, but I was lucky to get a gig on 96 FM almost instantly. I literally walked into the office and asked if they would give me a chance to play my massive collection – all the stuff I'd been playing in Glasgow – and they agreed. I started with a midnight show called 'Desi Club' which got me a lot of recognition and built me a fan base. It was my first break in the local industry. It got me a couple of interviews in newspapers and magazines as well, which was great.
How did MTV happen?

By 2008, even though I was still a full time student at NAPA, I'd been to a couple of music channels to ask for work, but they didn't take me seriously. Like Hira, people didn't understand me. I was tall and had piercings and a very different taste in music – they couldn't relate to me. One day however, while I was in class, I got a call from Ghazanfar Ali. He called me an idiot who was wasting his time in class, and told me he wanted me to do a live evening show on MTV. That was my big break in TV. The show was called 'Mera MTV,' and I ended up doing it for two years. By 2010, I had become the face of MTV… and that's when I got a call from the people who'd rejected me at Geo, and they asked me to come back!
You also experimented a bit with modeling, but then gave it up. What happened?
I was new in the industry and had hot blood. I was very ambitious and confident that I was good looking, so I decide to give modeling a shot as well. However, my first modeling experience with Munna Mushtaq and Umer Mushtaq was such a disaster that I was put off it completely. I was asked to wear a jacket without a shirt – my chest hair showing – and I wasn't even paid for it. That just wasn't my cup of tea.
Tell me about your first acting gig. Was it everything you'd hoped it would be?
I got my first offer to act in a telefilm from ARY Digital. The film was called 'Game' and it was directed by Mohsin Talat. I played the role of a gangster who dies in the end, and I'm sure I was horrible in it, but I still had a wonderful time. It was an amazing learning experience.
When I do something, I try to do it properly instead of wasting myself doing mediocre work. I'd already given up DJ-ing because no one here understood what it was and I didn't have proper equipment either, so I knew that if I was going to experiment with acting, I wanted to do proper roles.
By 2011, I had quit FM 91 after working there for five years. By this time I had also done a morning show there called 'Uth Ja Puttar,' which was fun and weird at the same time because I was hosting a morning show and I never wake up on time!
Along the way I got a few more TV offers, and I also hosted TV shows like 'Kon Banega Meera Pati' and two seasons of 'Pakistan Sangeet Idol,' which was Pakistan's first reality singing competition.
And then you hit the jackpot with 'Taaka'…
Yes, there was a lot of hype about the '…aaye gi barat' series on Geo, so when I heard they were planning to replace one of the leads in the second season, I decided to go for an audition. Raheel Butt, who was a friend of mine from 91 FM and was also a part of the drama, went with me for support. I was interviewed by Naeem Baig, Buhra Ansari and Marina Khan, and after the audition, they told me that they weren't going to use me in the role I'd auditioned for, but that they were going to introduce me into the series as a new character called Taaka. Dolly Ki Aaye gi Baraat broke Pakistani ratings records, and I got lucky that the character of Taaka went down so well with the audiences. The producers actually said I was lucky for the drama, so they made me the lead in the next season, and that's how 'Taakay i aaye gi baraat' came about. That role laded me a best actor nomination at Lux Style Awards, but I didn't win the award.
Another one of your Geo projects that resonated well with the audiences was Milk Shaikh, which was disturbing and hilarious at the same time. Did the people you interviewed really not know what was happening? How did you come up with the idea?
Milk Shaikh was one of my first projects for Geo. It was my own idea although inspired by something Sasha Boran Cohen had done before. The idea was to experiment with a foreign character, and what better character to do that with than a Shaikh. Pakistani's hold Arabs in very high regard and feel obliged to treat them well no matter what they say or do, and Milk Shaikh ended up being a testament to that. I used to get ready in the morning and stay in character all day, right until pack up late in the night. I would leave the dressing room all dressed up, and talk to everyone in nonsense Arabic all day. Even the crew initially thought that I was a real Shaikh who had come down to Pakistan to do a show. They found out I was Pakistani on the fourth day of shoot when I accidentally slipped out of character for a minute on the set and asked someone for a smoke!
The show got me a lot of attention, which was understandably not all very positive. I know it's hard to believe but people actually didn't know it was a Pakistani guy dressed up like a Shaikh. Sure I was doing pretty well on MTV, but unfortunately it wasn't being watched by the masses which is why it eventually had to shut down. The masses that watched Geo didn't watch MTV, and so had no idea who I was.
The aim of the show was make others drop their guards, and then attack them and make fun of them. It was a dangerous territory. Every single interview was memorable one because it was social experiment. If I'd asked the kind of questions I asked on the show as myself, my subjects would have walked off the set, but since I was a Shaikh, they were obliged to answer.
Who's the inspiration behind the comedy germ in you? Any particular comedians you aspire to work with in the future?
I think my ultimate goal is to work with Sasha Boran Cohen. I want to be a part of his production some day or want him to be a part of mine. People like Adam Sandler and Eddie Murphy would also be amazing to get a chance to work with.
I love comedy, and want to play around in the genre while I'm still young because when I'm older I'm going to try to be a graceful uncle and work only on projects where I'd get chance to play George Clooney type roles.
Right now, I've done too much comedy. I feel the need to do some serious acting.
But you have already done some serious roles before. Were they as fulfilling as you had hoped?
Hira mentioned 'Manjali' earlier, which was a pretty serious drama. Before that I did 'Daagh-e-Nadamat' with Mehreen Raheel, which also gave me a chance to really act. These opportunities have just opened up my appetite for more serious work; the urge to practice and hone my skill even more.
'Manjali' was an amazing script – the most well written project in my career so far. I wish I had known this with the intensity I know it now back when I was still working on it. If I had, I might have done an even better job.
Tell me a bit about Jalebi – the big feature film everyone's talking about.
I've done quite a few telefilms so far, but I feel I've been extremely lucky to land a role in a feature film called Jalebi which is being shot these days. If everything goes according to plan, everyone should be able to go to the cinema and watch a highly entertaining urban gangster flick that we've tried to make in the third quarter of this year. I can't reveal too much right now, but it's got me, Danish Taimoor, Waqar Ali Khan, Zhaley Sarhadi, Uzair Jaswal and a few other amazing people in it. I'm playing the lead, which means I'm finally getting a chance to concentrate on my acting. Pakistani cinema is too dependent on Gujjars and Bhais, but Jalebi is not that like that at all. I'm playing a car thief and I've had to work very hard on my comic timing and pitch control for the part. It's got a very interesting feel, and it is being shot on the same camera as Gravity and Iron Man 3, so the final result should be quite impressive too.
Do you feel that the dream you moved to Pakistan with all those years ago has finally been realized?
Absolutely. There's still a lot more to do of course but Pakistan is the luckiest place for me. Everything I've done and achieved has been here. I know a lot of people say this, but Pakistan really is my identity. Pakistan has made Ali Safina; it's taught me everything I know and given me everything I own, including my work, fans and my beautiful wife.
What other projects are you working on these days?
Last December, I joined Samaa FM to host their drive time show. Its commercial radio so I only get to play commercial hits rather than my personal playlist.
I'm also playing a villain in a drama serial called 'Ek Pal' these days. This is my first serious negative role in a drama, and I think I'm doing it pretty well. Hira and I are very similar in the way that we've both got several layers. When you act, you have to forget yourself and immerse yourself into the role you're playing. It's challenging, but very fun. Some roles are easy, and playing a villain came very naturally to me… that explains the moustache as well. Pakistani villains have to have a moustache!
The biggest achievement in 2013 was getting to marry the girl of my dreams. Planning the events pretty much took up all our energy and for us to be able to do any other work last year was a big deal. It's been a busy, busy year.
ALL YOU NEED TO KNOW ABOUT HIRA & ALI, THE COUPLE
On the story of how they first met…
Ali: My love story actually starts a few months before I actually met Hira. I was at Citrus talent agency one day, and one of the models' framed photos kind of stood out for me. I looked at her and thought to myself: "Waah yaar! Who is this girl? She's pretty cute!" But then I came home and forgot all about her. Then, after about 7 or 8 months, one of my friends that I'd had a falling out with gave me a call day out of the blue one day asking me to meet him. I agreed and went to see him, and when I walked into his house, there she was. After a brief introduction and speaking to her for a few minutes, I realized that she was a very cool, intelligent girl with amazing sense of humour.
Hira: When I first moved to Karachi, my khala was nice enough to let me stay with her for a year. In the mornings, I often used to hear my khala and khalu laughing in the TV lounge, which was right outside my bedroom. One day, I sneaked out to see what was entertaining them so much and I saw them watching 'Milk Shaikh.' Another day, I saw them being entertained by another show that Ali used to do on Aag TV called 'Hurn Dus,' which was pretty funny too. That's how I first started noticing him. He obviously had talent, and I remember noticing that he had a good DJ-ing personality. I critically analyzed him from a creative perspective. He had a different personality form other Pakistani guys, and that just registered him at the back of my mind. I didn't know anything else about him. One day I went to a party and the host who was a good friend told me about Ali and how he wanted me to meet him. It wasn't a matchmaking sort of thing, he wanted me to meet one of his old friends… A while later, the door opened and in walked a very tall guy. There were no lovey feelings or butterflies instantly. We just sat around and talked and had a generally good time. One of the first things we talked about was DJ-ing. I remember Ali asked me how I DJ-ed and I pulled out my laptop to show him my mixing software and play him some of my stuff. It was all very natural.
Ali: I was going through a rough patch in my personal life at the time. I was confused about where I was headed in terms of who I was seeing or would be seeing… It wasn't love at first sight. I didn't start thinking about marriage until much later, but I remember I was just amazed that I'd come across such a wonderful human being that night.
On the good traits they noticed about each other right away…
Ali: The first trait I noticed about her was that she's extremely focused. She knows what she's all about and what she wants from life; she's very sorted and has a very well developed personality and a good head on her shoulders. That's exactly the kind of people I make friends with. Most of my friends are very intelligent people with amazing personalities.
Hira: He's very ambitious, and I realized that he wasn't the type of guy with whom life would ever seem boring or stagnant. He's unaffected by trends and what people say, and I admire that a lot.
On the friendship – and the 'tingling sensations' – that ensued…
Hira: We became best friends instantly. I found Ali to be a genuinely fun guy and I liked hanging out with him without any ulterior motives.
Ali: Yes, the day after the party, we met again… then she went to Islamabad for a gig, but we got back in touch right after she returned. I didn't realize she was the same girl from the photo at Citrus I'd seen all those months ago. That didn't happen until much later when we both went there together and I suddenly realized she and my crush were the same!
Hira: I'm sure he Googled me and stalked me for a while. Then one of us added the other on Facebook – I don't remember who did it first, that's still debatable. We eventually started chatting regularly on MSN messenger where we'd share music with each other. We were like a couple of nerds sharing our feelings for watchtower through music.
Ali: I'd been in Pakistan for 5-6 years by then, and when we talked and she told me about her life and experiences, I could relate to them. We eventually developed the relationship to a point where we'd meet each other every day. I was going live on TV daily, and as soon as I left work I'd call her up and make a plan to hang out.
Hira: I was very headstrong and told myself that Ali is a great friend and I don't want to ruin the friendship. I was very careful with him initially. I thought that maybe Ali was that one good guy friend that you have that you can really talk to. But then eventually, after a few months we realized that we really wanted to hang out with each other ALL the time.
Ali: She was an American model… there were bound to be a lot of suitors waiting in line for her. I thought I had zero chance with her. The friendship was definitely there, but it took us three months to realize we had those tingling sensations as well.
On The Talk, and their mutual decision to 'take the next step'…
Hira: The cool thing about Ali is that he never gave me the impression that he was afraid of commitment like most guys. That made me very comfortable. Most guys who are ambitious are very commitment phobic at this age.
Ali: I'm not going to lie, I was afraid of commitment before meeting Hira as well… I've broken a few hearts in my time too…
Hira: Yeah, that's another thing I'd heard about Ali Safina! The things I'd hear about him weren't matching up to what I saw in him. That was a mystery. I knew I had to carefully observe him first, which I did. I had to make sure I wasn't just a rebound girl for him. That's why one day we went to a restaurant and I laid out all my cards in front of him: here's what I'm all about, this is my work and this is what I plan to do… I needed to be sure that he was supportive of my work because it's very important to me. We actually sat down and have a few proper conversations to discuss everything. I was at a point where I knew that the next person I was going to be with would have to accept me for who I am; I wasn't going to change for anybody or try to be someone I'm not just to make a guy happy. If the guy couldn't handle that then he wouldn't be the right guy for me… and he passed the test! He was very family oriented; he's good to the women in his family, and he mingled in perfectly with my family. I love that about men and I was glad to find Ali had these qualities.
Ali: It was the same for me. I think our families are very important to the both of us, and I saw that she was the kind of girl who would make an effort to mingle in and embrace my family as hers, and I'm sure she felt the same for me. This image that people have of her as an American model who grew up in the States is very different from the real Hira. She speaks Sindhi at home, she understands Punjabi and is open to other cultures. She gives a lot of importance to family values. I got to know the side of her that people don't normally get to see.
Hira: Guys might deny it, but they always want the kind of girl who has an interest in homemaking. A girl that could make "a house into a home." The fact that we had a lot of similar interests also helped of course. I always wanted to be with someone I could combine my interests and hobbies with and then we could potentially do something big and make a difference… maybe even build an empire one day with!
Ali: After we settled all the doubts and confusions, we decided to turn our dosti into rishteydaari!
On telling the families that something was up…
Hira: I was still living with my khala at the time and I used to go MIA from the house a lot, so eventually I had to tell my cousin about Ali. She noticed I was hanging out with him a lot without me saying anything. He used to come to our place to pick me up in his super loud muscle car with a tweaked engine and sub woofers. I couldn't even lie I was going out with someone else!
Ali: I actually told my dad before my mom, which was pretty interesting. One day my dad asked if I'd given marriage and settling down a though, and I came right out and told him about Hira. He was surprised, but agreed right away without any drama. He probably wasn't convinced that Hira was convinced!
Hira: Ali's sister Fatima used to live with him- even though we didn't tell her up front, we were seeing so much of each other there was no way she couldn't have found out that something was up. I eventually started to spend time with her.
Ali: When my mom found out, she actually asked Hira what she'd seen in me and if she was sure she liked me! I'm sure she already knew. Parents can read the body language… we were hanging out all the time and there were snippets about us being an "item" being printed every now and then so it was inevitable. My family was on board right away – they've always been very supportive about everything I've done in my life, and this time was the same.
Hira: Ali started to get to know my sister Zara over Skype who was still in the US. When Zara found out and met Ali for the first time, she said: "What the hell!? You guys look like brother and sister! You guys are so alike… where did you find this guy?" Zara and Ali got along really well right from the beginning. They started having fights like siblings. They'd fight, not speak to each other for a while, then become best friends again and gang up on me… we were like two separate families who were destined to come together. It was meant to be!
On their small, intimate engagement party…
Ali: After over a year of seeing each other, we got engaged in April 2013. My family flew in from Oman, Hira's mom flew in from the US, but her dad and brother couldn't make it. It was a very small affair. We only invited immediate family members and a handful of friends. It was a very intimate ceremony where we did the whole ring exchange thing and had a nice casual dinner.
Hira: After the engagement we set the tentative date for the wedding. It was a good opportunity for the families to sit down together and plan ahead. We initially wanted to do it earlier but then decided December would be the best time for my dad and brother, who hadn't come to Pakistan in 20 years!
On the little details that went into planning the wedding, like elaborate invitation cards and Excel sheets…
Hira: I was very particular about the little details that went into planning the wedding. Ali and the family make fun of me and call me a bridezilla, but they clearly haven't seen a real bridezilla yet. I was particular about details, sure, but I took care of them myself. I didn't bother or depend on anyone else with them. I didn't expect anyone else to do anything for me – besides the ribbons on the wedding invites that Ali was in charge of and had such a hard time taking care of.
Ali: She designed the invitations herself and they were beautiful, but it was all just too much. There was an invitation with a seal in a small envelop, then a bigger envelope, which had a ribbon, which had a sticker on it. The only things missing were laser beams and tanks!
Hira: We actually had a fight about the wedding invitations. Instead of feeling lucky he's getting such an organized wife, he was making fun of me. I was designing such beautiful wedding cards, developing a special Excel sheet like a proper software programmer and was completely obsessed with decoration ideas and reference photos so our wedding could be perfect. On the other hand, he was getting fed up with the damn ribbons on the wedding cards – the one job I'd given him!
Ali: Someone once gave me some great advice: There will be lots of arguments during the wedding planning process, and the key to getting out of those arguments unscathed is to never ever argue – and I remembered that!
Hira: I think everyone should be very proud of me. I was hell bent on getting things to go my way. I wasn't just making demands – I actually made full menus and gave them to the wedding planners. I wrote documents and made a file with details of the type of table cloths, china, flowers, paper lanterns I wanted, and they all had reference photos! I was so organized I had made an Excel sheet not only for my side but for his side of the family as well. I gave each person a serial number, and according to the serial number we'd know how many seats to reserve for a particular family…
Ali: She basically had to know everything that was going on… If a bird was to fly into the venue to lay eggs, she wanted to know how many eggs! I was the complete opposite. If a bird wanted to fly in and lay eggs, let her! It was our wedding – our only objective should be to enjoy it!
Hira: I didn't want too many wedding crashers. Sure RSVP doesn't work in Pakistan – but if we all give up trying to change that, how will it ever be different? It ticks me off how people refuse to make a change.
Ali: There was a lot of stress at times because we were taking care of everything ourselves. Both our families live abroad so we didn't have much help. For me, finding a house where my whole family of 60 people could stay for the duration of the wedding was a big task. My family's Punjabi, and everyone wants to be involved and live together on these occasions to maximize the fun. I was very particular about these arrangements about the house, transportation, food etc. We knew that we wanted a proper full-fledged wedding with all the functions – it should go on for at least a week and we made sure we did that. There were obviously things that weren't working out but I wasn't bothering too much about them. I was focusing on the good things: I was getting married to the girl I wanted to marry!
On the wedding dresses, and how they were exactly what they wanted…
Hira: My wedding dress was designed by Adnan Pardesy. I naturally had a very elaborate vision which was probably very annoying for Adnan, but he was nice enough to tell the bride that he admired her ideas, and made exactly what I had in mind. I made the sketch myself and even brought the fabric myself. I told him exactly what bead I wanted in which colour and where! He told me he hadn't seen a bride like that before, but he also admitted I made his life easier because he knew exactly what he had to do. Ali wore an Ivory coloured sherwani that was also designed by Adnan Pardesy, but his design was much simpler. On the valima, I wore Sanam Chaudhry and Ali's suit was from Republic by Omer Farooq.
On having no cold feet whatsoever…
Ali: I didn't have cold feet at all. I'd thought about this a long time. I knew I wanted to marry her for about a year and a half, so I had a lot of time to prepare and stabilize myself.
Hira: Me neither, but I'll admit we had a few small fights during the wedding planning process, and they used to annoy the hell out of me. It was weird because I couldn't not talk to him because we were getting married in a few days. It wasn't fair, because I just couldn't afford to get mad at him for a long period of time.
Ali: But you remember you did have a cold feet moment that day?
Hira: Yes… one day, he made a comment about my wedding invitations and I lost it. I stormed out of the house, and Ali followed me, and as if things weren't already bad, we were locked out! That's when I had an "if you can't take care of this, how will you take care of me?" moment.
Ali: But I grabbed the opportunity to reclaim my title as the hero again by knocking the door down!
On the wedding, how much fun it was, and other memorable moments from the big day…
Hira: It was an overall great wedding. We had the whole cake cutting ceremony, with family photo slide shows with both our childhood photos which were a bit hit, as well as a live band, fireworks and a first dance on Etta James' At Last, which was beautifully sung by Zoe Viccaji.
Ali: The Nikkah was by far the most fun moment of the whole wedding. The maulvi was hilarious; he started telling a joke during the dua! It was definitely very memorable!
Hira: To me, the rukhsati was a lot of fun. There were so many things I'd always wanted to do at the time of the rukhsati. One thing we missed out on because of lack of time was the speeches. My family people like to speak out a lot publically. Aside from that, the first dance and live performances were just so much fun. It was magical. I remember feeling that during the wedding that everything was exactly how I'd imagined it to be. It was a WOW moment. The best part was, everyone else felt the same way.
Ali: It eventually turned into an open night sort of a thing. Everyone came up on the stage to sing. It started with a very jazzy feel, followed by Rock, then Indian and Spanish songs, and then Punjabi took over. By the end, everyone was doing Bhangra. Just the fact that two families had come together so naturally, and were having a genuinely good time was great. People who had never danced before – especially my dad– were dancing!
Hira: It was a lot of hard work, but in the end it paid off and everyone enjoyed the wedding. People actually came up to us and told us that it was one of the best weddings they'd attended in a long time.
On their honeymoon plans…
Hira: We haven't decided yet, but it will either be Spain or Greece or Italy. Or maybe some beach resort. In either case, we do know that we're waiting for the weather to warm up a little bit so we can go somewhere we can freely walk around on the streets and enjoy ourselves – things we don't normally get to do in Pakistan.
Ali: We want to go somewhere the both of us haven't been before – we want to explore a new culture complete with its weird food and all. We could also go to Paris, but I've heard that even shawarmas and cold drinks are too expensive there! After all, we have to remember that we're celebrities of a third world country. We can't be too careless with our money!
On what they feel is the secret to a happy, successful marriage/relationship…
Ali: Can't say much about the secret to a happy marriage because it's only been a month, but here's what I can tell you about a happy relationship: listen to the other person. And also tell them what you're thinking. If you want to be happy, let it out. The other person should know what, when and how you feel and vice versa.
Hira: It's OK to fight as long as the fight is not destructive to the relationship. Communication is actually more important than being passive aggressive, because that sucks. Sometimes I feel myself being passive aggressive but I make a conscious effort to snap out of it and tell Ali what's bothering me – and it works.
Ali: But what about the people who say: "Trust is key?"
Hira: Trust is also important, but it comes with time. Why would you trust someone in the beginning? You can't! You shouldn't! It's not natural. It's a gradual process with many steps – I can make a flow chart on relationships too if you want!
On the legendary couples they aspire to be like, or learn from at the very least…
Ali: Bonnie and Clyde, Batman and Robin, Tom and Jerry are all good examples. Or maybe Brad Pitt and Angelina Jolie? Or Meera and Captain Naveed!
Hira: I don't want to take any celebrity couple's name because what'll we do if they get divorced!?
Ali: On a serious note, I think my parents are the only couple I really admire. They're an amazing couple. They're the heroes of my life and we can only hope to be like them. I also admire Sohail and Salima Hashmi and Mohib and Aamina Sheikh.
On the importance of celebrating Valentine's Day, even if it has turned into a somewhat cheap affair, and how they plan to celebrate this year…
Ali: In Pakistan, Valentine's Day has turned into a very cheap affair. If you go out on the 14th, you'll see heart shaped balloons everywhere. It's not romantic at all… but when you have someone in your life that you genuinely love, you feel like doing something for and with them on these occasions. Ever since meeting Hira, I've wanted to celebrate Valentine's Day. It might be cheap, but it's worth it if I'm doing it for Hira.
Hira: It's important to me because it's particularly for the one person you love. It's a good excuse for you to express your love and feelings. It works for me because I'm not the kind of person who would randomly give Ali a card that says I love him. Valentine's Day gives me an excuse to do that. Last year, I made a photo album with all our pictures together and Ali loved it.
Ali: Yes I did, it was really cute. And it was only half full, so I had to fill the second half myself.
Hira: We're pretty 'spur of the moment' kind of a couple. But since we're planning our honeymoon soon, we're probably going to do something small on V-Day here, and save our energy for later.