Who doesn't love Ali Zafar? The man who won Pakistan's heart over 11 years ago with a song that's still as catchy as it was the day it came out, and has been playing music with his fans' heartstring ever since. No success story in Pakistan's recent entertainment history is as inspiring and well merited as that of Ali's. Not only has he proved himself to be a truly multi-faceted performer, dabbling in almost all forms of artistic expression from painting and modeling to making music, singing and acting, but he successfully continues to amaze and intrigue with his every move, while effectively maintaining his boyish charm that both men and women on either side of the border can't seem to get enough of. And Ali's recent success in Bollywood is a testament to that. From Tere Bin Laden to Mere Brother Ki Dulhan and now Total Siyapaa – the slapstick comedy that's hugely reminiscent of Meet the Parents and so many other films about dysfunctional families, but brings a very fresh, yet oddly familiar – not to mention totally hilarious – twist to the plot by addressing a very Sub-continental issue that up until now has almost been a bit of a taboo to allude, let alone laugh about. Sure, it may still be a while before Ali's able to prove his prowess at serious acting, but if his vocal chops and overall artistic caliber is anything to go by, we're willing to bet it won't be long before this golden boy from Pakistan finds his true worth in India and beyond.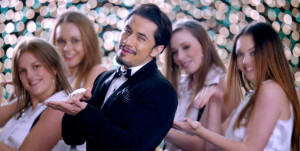 How would you describe your journey from Channo to Total Siyapaa?
It has been an absolutely amazing journey! From my first film up till now, I have gotten industry support from both Pakistan and India. I am quite humbled and thankful that since the beginning I have been approached with good opportunities. From my singing debut to my latest film Total Siyappa, I have had the privilege to represent my true skills in both the music and film industry. It's not an easy journey, a lot of hard work is required but I'm glad that people have believed in me… and all the hard work now seems to be paying off.
Over the last 11 years you've worked and received accolade as an artist, a singer, a model and an actor – is there anything you can't do? Of all these career paths, which ones did you enjoy the most and least, and why?
I love everything I do – and that's a part of being an artist, to be able to explore and test your versatility. I enjoy acting a lot as it lets you explore different avenues. Music is my passion, it's something I started with and it will always be a very important part of who I am. And for most of the films that I have done, singing has gone along the way so I never really had to take a break from making music. Like I said, I love everything I do but at this point, my priority and focus is acting.
You clearly have an old school touch to your music. Who was your biggest musical influence while growing up and do you make it a point to incorporate their "touch" to your music still? Have you picked up any new inspirations over the last few years?
Anyone who says he is not inspired is lying. We all grow up with inspirations and idols around us. My inspiration throughout my life and career has been various artists. From the likes of Pink Floyd and Led Zepplin to Mehdi Hassan, Kishore Kumar and Tufail Niazi. And even Strings. It really is a long list.
You've sung duets with some of Bollywood's biggest names in music. How enriching has the experience been for you? Who did you love working with the most?
Both Sunidhi Chohan (Title track for London Paris New York) and Sherya Ghosal (Dhichkyaaon Doom Doom from Chashme Badoor) are fantastic singers to work with. I also toured with Sunidhi last year and it was a lot of fun!
Being a painter with a very overbearing alternative career myself, I often get frustrated when I'm not able to play around with my paints and brushes for long periods of time. Do you still get the time to paint?
My dad is an artist so art runs in the family. Recently I have been really busy with my film projects, but whenever I find the time I always use the stroke of the brush to create something I enjoy making.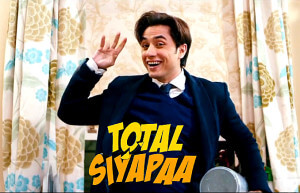 Tell me about your transition into acting. You started with Pakistani dramas. What was that like? How did you get your first Bollywood break? Tell me the whole story.
I ventured into dramas and acting in Pakistan to earn some pocket money to record my music album and videos. I always wanted to be a singer. And I became one. I toured the world and did about 500 shows. I thought it was time to challenge myself and move onto something more. Luckily I was offered Tere Bin Laden which seemed like a good project to start with, and eventually became a roaring success in India.
And then you were nominated for a Filmfare for your work in Tere Bin Laden. How surreal was that?
It was an enthralling experience as I was humbled by the love and support I got from the industry. To have just entered an entertainment industry that has such huge competition and getting your hard work recognized on such a large platform is a huge accomplishment.
Spending time and working with Katrina Kaif has got to be every red-blooded Subcontinental man's dream – and you got to live it. Tell me, was working with her in Mere Brother Ki Dulhan really as fun an exciting as it sounds? Also, what was working with Imran Khan like?
What can I say about Katrina? Everybody is so fond of her because of her good nature. What I really like about her is that she is very hard working and professional. She is very sorted when it comes to her work, and she is extremely intelligent as well. I was also very fortunate to work with an artist like Imran. I was so comfortable. He is a very humble person. He had a lot of interesting facts to share and obviously I had great conversations with him. When you have good co-stars, the whole journey of making a film becomes a great experience. I was really comfortable working with both of them and thoroughly enjoyed myself.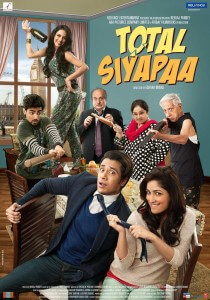 Now let's come to the film of the hour: Total Siyapaa – Tell me the full story of how you landed the role and what it was like working on the film with your crew and co-stars
As soon as I was approached with a Neeraj Pandey script, I knew it had to be good. Being a fan of his previous film ventures, when I read the script I immediately said yes because the storyline was so engaging and different that I knew right there and then that I had to do this film. It gave me the opportunity to work with amazing stars like Yami Gautum, Kiran Kher and Anupam Kher, all of whom made the entire film production an incredible journey for me.
The film might be a comedy, but it has a strong undelaying message: embrace multiculturalism. We're 14 years into the new millennium – how important do you think is it for people to start accepting multicultural relationships?
You're right, it's strange that we are in the 14th year of a new millennium and people still refuse to understand the message delivered by the prophet 1400 years ago: that all men are equal devoid of their faith. People really need to work on building their tolerance and support for each other. Total Siyappa took a comical route to express this very issue, and I think it was able to deliver a message despite staying within those limits. As far as my own experience is concerned, I have been very warmly welcomed in India. It's foolish to have any prejudices against each other when we can all live happily in peace.
Clearly it's time to bury the past and move on. How do you suggest we overcome these implicit notions of rivalry among the masses on either side of the border?
Besides bold diplomatic measures and the staunch political will from both sides, I think people to people interaction is very important for understanding each other's point of view and be tolerant and loving towards each other. I believe both the cultures have very much in common and we need to embrace the differences and move on.
What, according to you, is the importance of comedy in a Pakistani's life these days?
Pakistanis have and are made to go through so much stress these day. I think they deserve to smile and laugh and have a good time, and comedy is an easy source of laughter. If my film – or any film for that matter – can provide that for a few hours, then it's definitely worth it!
Do you recall any fun stories from the sets of Total Siyapaa?
Well, the good thing about comedy is that you keep bouncing off jokes on and off screen and the set enjoys a light fun vibe. There was something funny going on on the sets almost every day!
Your music has also made it to Hollywood in the past. Any plans to go take your acting skills across the Atlantic as well?
If I get a good opportunity and its worth my while, then I don't see why not.

Pakistani actors have been trying to penetrate Bollywood for years, but none of them were able to warrant much positive attention. Why do you think you're the first Pakistani actor to get the kind of respect you're getting across the border? You're being nominated for and winning awards and filmmakers seem to be keen to work with you. What's your secret?
There is no magic secret. I think my hard work is the key, and that's what's brought me where I am today. I have been lucky too as people have encouraged me and appreciated my work across borders. I have been able to choose the projects I do very wisely, and that in itself has positioned me well.

At the same time, there has been a lot of criticism as well. Hindu Janajagruti Samiti party in their representation to the Central Board of Film Certification has demanded cancellation of Total Siyapaa's censor certificate because they think it's "anti-national and glorifies Pakistan." Tell me a bit about that.
I haven't heard anything about this yet.
Tell me a bit about your family life. How does Ayesha deal with your ever-expanding fan base and stardom?
Ayesha is a very supportive wife. She has been with me for through every project and supported and encouraged me to express and explore myself as an artist. This is the reason we have ended up together; she is this amazing person who stands by you throughout.
Becoming a father is a life altering milestone. You have been extremely busy with your film and music work in India since Azaan's birth in 2010. Does being away from him ever take its toll on you? On the one hand you're getting more work now than ever before but at the same time you're having to choose between being work and family. How do you cope with the mixed bag of emotions?
Striking the balance is the toughest thing that I have to deal with right now. But that's what life is all about, isn't it? Striving to strike the balance… I'm trying to do the best I can.
Any thoughts on being dubbed the Sexiest Asian Man in 2013 by a British Tabloid?
I am very flattered and never expected to be given this title. I still don't know how I made it onto this list, let alone top it! I would like to thank all those who voted for me from the bottom of my heart.
The last ten years have been a bit of a rollercoaster ride for you. What's up Ali Zafar's sleeve next?
Kill Dil! It's an action drama that I'll be working on with Yash Raj Films.